Your Trusted Kennewick Chiropractor
Liz Faletti, Chiropractor, Welcomes You!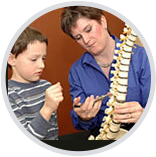 Dr. Liz Faletti provides chiropractic care to the Tri-Cities area of Kennewick.
Are you looking for a natural solution to headaches or back pain? Or perhaps ways to get well and stay well that avoid drugs or surgery? You're in the right place!
Your nervous system controls and coordinates all the complex processes of your body. When there is an interference, this can be why your body experiences pain and other dysfunctions. Chiropractic adjustments can remove the interference and not only relieve the pain but get you on the path to better health and continued wellness.
Take the first step towards relief by calling our Kennewick chiropractic office today.
---
Providing Quality Chiropractic Care to the Tri-Cities area of Kennewick.